The Diana Jones Award is an annual award created to publicly acknowledge excellence in gaming. The award was first made for the year 2000, and the first award ceremony was on August 4, 2001.
More information:

The Awards:
The Diana Jones Award 2005
The Winner | The Nominees | The Award Ceremony
The Winner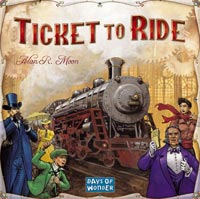 The Diana Jones Award committee is proud to announce that its fifth annual award is given to Ticket to Ride.
By Alan Moon
Published by Days of Wonder
Ticket to Ride is a masterful work by a veteran designer at the height of his powers. Nothing about the board game can be faulted: the rules are simple and clearly explained, the strategy is intriguing, the gameplay is balanced, engrossing and tense, the components are beautifully produced, the design is polished till it gleams, and the whole demands to be played and replayed. The addition of an online version with free access for purchasers of the physical game is the flourish on the icing on the cake. Not only is Ticket to Ride the best introduction to the pleasure of playing board games in years, it shows the elegant art of games design at its very best.