The Diana Jones Award is an annual award created to publicly acknowledge excellence in gaming. The award was first made for the year 2000, and the first award ceremony was on August 4, 2001.
More information:

The Awards:
The Diana Jones Award 2005
The Winner | The Nominees | The Award Ceremony
The Award Ceremony
The fifth annual Diana Jones Award for Excellence in Gaming was presented to Mark Kaufmann, co-founder of Days of Wonder, the publisher of the board game Ticket to Ride, on 17th August 2005, the evening before the Gen Con convention ('the four best days in gaming') opened in Indianpolis.
The award was made at the Diana Jones Industry and Freelancer Party, organized by the DJA committee, with sponsorship from Adept Press, GAMA, Gen Con LLC, Human Head Studios, Janice Sellers, and WizKids.
As one of the few publicly known members of the Diana Jones Award committee, Matt Forbeck presented the DJA trophy to a beaming Mark Kaufmann. The eager audience of games designers and industry professionals applauded Kaufmann as he accepted the award on behalf of Alan Moon and made a short acceptance speech.
Thanks to all who attended, to the event staff at the venue, and to the ceremony's sponsors, who paid for all the 'free' drinks.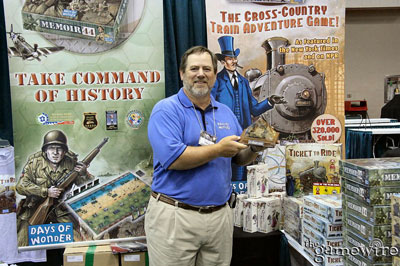 Above: Mark Kaufmann proudly displays the Diana Jones Award in the Days of Wonder booth at Gen Con Indy 2005 (Photo by Rick Thornquist)