The Diana Jones Award is an annual award created to publicly acknowledge excellence in gaming. The award was first made for the year 2000, and the first award ceremony was on August 4, 2001.
More information:

The Awards:
The Diana Jones Award 2004
The Winner | The Nominees | The Award Ceremony
The Award Ceremony
The fourth annual Diana Jones Award for Excellence in Gaming was presented to Paul Czege, the designer and publisher of the roleplaying game My Life with Master (Half-Meme Press), on 18th August 2004, the evening before the Gen Con convention ('the four best days in gaming') opened in Indianpolis.
The award was made at the Diana Jones Industry and Freelancer Party, organized by the DJA committee, with sponsorship from Gen Con LLC, Grey Ghost Press, Human Head Studios, Janice Sellers, KublaCon, Pinnacle Entertainment Group, West End Games, and WizKids.
Andy Kitkowski led off the ceremonies with the presentation of the Indie RPG Awards. Presaging the Diana Jones Award, Paul Czege was one of the big winners for those awards as well.
As one of the few publicly known members of the Diana Jones Award committee, Matt Forbeck presented the DJA trophy to a stunned Paul Czege. The audience of around 250 games designers and industry professionals applauded Czege as he accepted the award, and he made a short acceptance speech.
Thanks to all who attended, to the event staff at the venue, and to the ceremony's sponsors, who paid for all the 'free' drinks.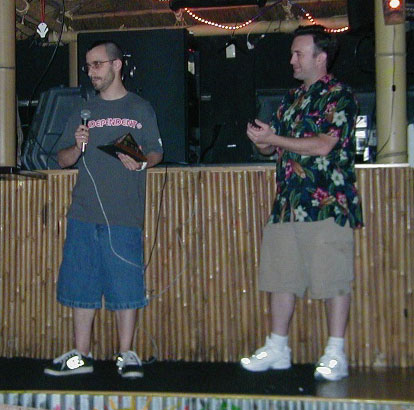 Above: Paul Czege accepts the Diana Jones Award from Matt Forbeck.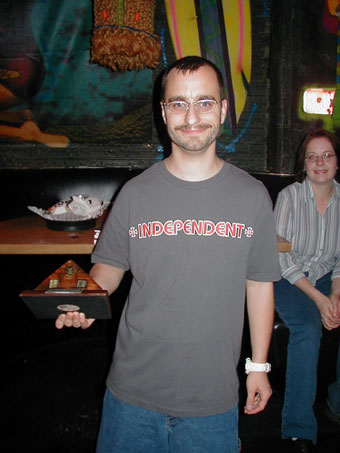 Above: Later, Paul proudly displays the trophy as his fiancée looks on.