The Diana Jones Award 2002
The Winner | The Nominees | The Award Ceremony
The Award Ceremony
The second annual Diana Jones Award for Excellence in Gaming was presented to Ron Edwards, the designer and publisher of the RPG Sorcerer (Adept Press), on 7th August 2002, the evening before the Gen Con convention ('the four best days in gaming') opened in Milwaukee for the last time.
The award was made at the Diana Jones Industry and Freelancer Party, organized by the DJA committee, with sponsorship from Gen Con LLC, Hogshead Publishing Ltd, Misguided Games and Wizard's Attic.
The presentation of the trophy to Ron Edwards was made by Peter Adkison, the previous year's winner. The audience of around 250 games designers and industry professionals gave Edwards a standing ovation as he accepted the award and made a speech declaring the arrival of the independent publisher as a force within the games field.
Earlier in the evening, in association with the Academy of Adventure Gaming Arts and Design, John R. Phythyon, Jr. and Peter Adkison presented Tracy Hickman with his GAMA Hall of Fame award. This award had been announced at the Origins convention a month before, but Hickman had been unable to attend. Unaware that he would be honoured at the Industry and Freelancer Party, Hickman's surprise and pleasure was evident.
The evening was compered by James Wallis who, in a short speech, observed that the Diana Jones Award does not stand in opposition to the Origins Awards, but as a complement to them. However, as he pointed out, "They make you wear tuxedos, while we give you free beer."
Thanks to all who attended, to the event's sponsors, and to Milwaukee's Historic Turner Restaurant where the event was held.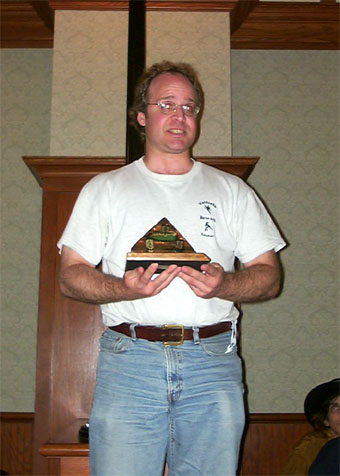 Above: Diana Jones Award winner Ron Edwards makes his acceptance speech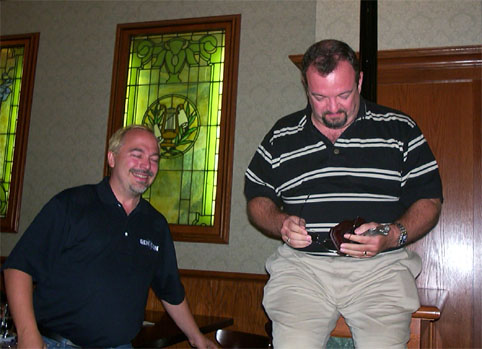 Above: Peter Adkison presents Tracy Hickman with his GAMA Hall of Fame award